Our community organizing, legal work, and strategic communications have contributed to exciting developments in the last few months for many of the issues we work on at the Abolitionist Law Center. Check out our June 2023 update for a sampling of the latest highlights.
---
RECORD-BREAKING SETTLEMENT IN PHILLY POLICE VIOLENCE SUIT
In March, with our co-counsels the Legal Defense Fund and the law firm of Kairys, Rudovsky, Messing, Feinberg & Lin LLP, we announced a record-breaking $9.25 million settlement for a large group of clients (represented in several cases, including ours) who were brutally attacked by Philly cops during peaceful demonstrations following George Floyd's murder in 2020.

The city also must pay an additional $500,000 to a fund that will provide both counseling to targets of police violence and also community-led programming in the aftermath of police violence and misconduct.

Additionally, Philadelphia must disengage from the federal program which arms state and local law enforcement with military weapons and equipment, and meet every six months with the West Philadelphia community to present data around the police department's use of force and to respond to questions and comments from residents.

ALC staff attorney Nia Holston noted, "This landmark settlement provides a singular opportunity for the City to reflect upon the harm it enacted on its residents on that day, harm that echoed Philadelphia's own history of racism and discriminatory infliction of violence. It is only through the work of the community and the movements that have pushed this city to do better, that we progress to a more just Philadelphia for all who inhabit it. The settlement not only compensates those who were targeted, but provides further opportunity to residents to heal and to continue their work."

Get more details, plus press coverage and video of the press conference announcing the settlement.
---
ENDING PROBATION-RELATED DETENTION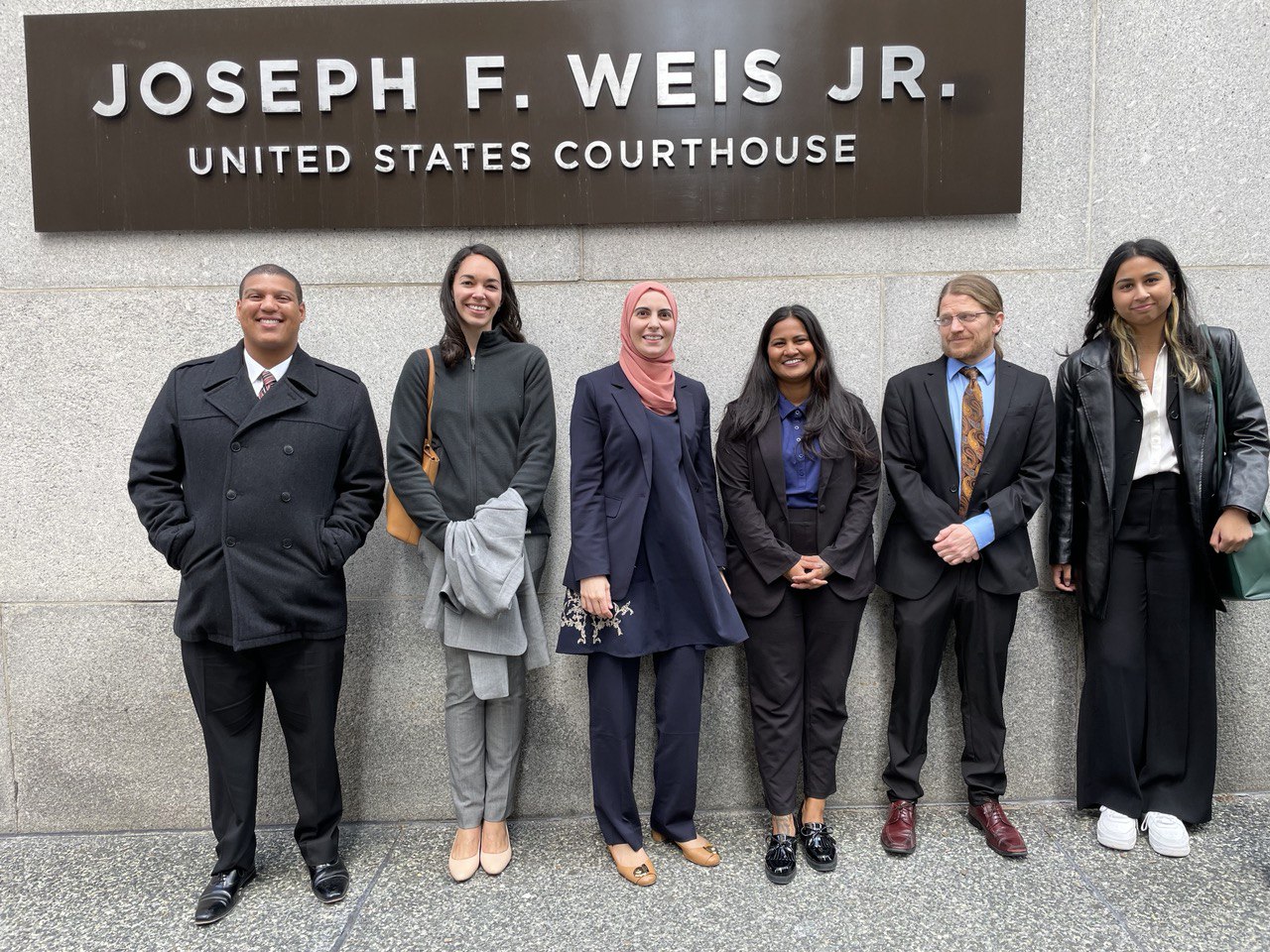 Our staff presented a persuasive argument at a preliminary injunction hearing in April in federal court in Pittsburgh, in our class action suit (co-counseled with Civil Rights Corps) alleging that Allegheny County's pervasive incarceration of people awaiting hearings for alleged probation violations is unconstitutional.
This issue is vital to our community and our movement: more than 40% of people in Allegheny County Jail are currently being held on probation detainers, and a favorable decision would have major ramifications for pre-trial incarceration throughout Pennsylvania and beyond.
The expertly constructed presentation by ALC staff attorney Dolly Prabhu included powerful plaintiff and witness testimony by ALC's Court Watch founding director and current Movement Building Director Autumn Redcross and and volunteer court watcher Emma Fenstermaker, coupled with extensive data collected by our court watchers who've observed hundreds of probation hearings, and analyzed by top-notch ALC intern Lolo Serrano.
This case perfectly illustrates how we combine our Court Watch program and other grassroots mobilizations with movement-lawyering to build innovative and effective challenges to the carceral state.
---
SHOWING UP FOR OUR COMMUNITIES
Among many other activities in communities across Pennsylvania this spring, we've challenged the prioritization of county-wide resources, celebrated the queer community in spaces like Pride events, and presented at public programs on a wide range of topics including the Ecology of Mass Incarceration, human rights violations in U.S. jails and prisons, and policing the police.
In greater Pittsburgh we're continuing to focus the majority of our litigation and organizing on the extreme injustices and abuses happening in the criminal courts and the county jail. Our organizers, legal team, and volunteers remain engaged on many fronts, including establishing a vocal and visible presence at Jail Oversight Board meetings, and advocating on behalf of incarcerated people and their loved ones, who are trapped in atrocious conditions.
ALC's Court Watch program recently partnered with Point Park University psychology students who conducted ethnographic observations of Allegheny County's mental health court as part of an advocacy-focused research project. As one participant noted in this article in the Wellsboro Gazette, "This experience showed me the type of community activism that needs to be done. If we don't have people going to courtrooms to see what is happening and talk about it, then nothing will change, and the people in difficult positions may never have the chance to actually get help." To explore how you can take an active role through court watching or court packing, sign-up for one of our upcoming Courtwatch Orientations here.
In Philadelphia, we remain hard at work on an effort to establish a board to oversee the city's jails, where people experience truly dire conditions. We're aiming to create an independent civilian body whose members will include formerly incarcerated people and their loved ones who are the experts on Philly's carceral system. This oversight group will have the power to investigate abuses, audit prison practices and policies, and have full access to the facilities to create oversight, transparency, and accountability where there is none currently.
To learn more about the effort to address the human rights disaster in Philly jails,
join us for this upcoming event:

Philly Incarceration Crisis: Virtual Town Hall

Too many deaths, too much violence, too many held in inhumane conditions, too many excuses!

Join us on Tuesday, June 27 at 6pm
to discuss the Philly incarceration crisis and how you can get involved.
Registration required. Sign up here.
---
FROM VICTIM TO VICTOR
In mid April, in collaboration with Let's Get Free and the Human Rights Coalition, ALC released our newest report: From Victim to Victor: An Inquiry into Death by Incarceration, Gender, and Resistance in Pennsylvania with a press conference at the William Way LGBTQ Community Center in Philadelphia.

As the first ever in-depth report examining the gendered experience of Death by Incarceration (life without parole) in Pennsylvania, From Victim to Victor exposes the overwhelmingly common yet vastly overlooked threads woven through the direct experiences of women and trans people sentenced to die in prison.
"I'd like to express how psychologically deafening it is to be rehabilitated, take full responsibility for your crimes, have meaningful goals and assets to offer to society, be called a role model, yet denied a second chance to become a taxpayer, instead of a costly tax burden within society… I pray for the day I'm afforded at least a chance to see the parole board. Even Charles Manson was afforded this gift." – Jennifer Rhodes, in her speech at the press conference

Dig deeper here, download the report, find press coverage in Truthout and the Pittsburgh City Paper, and more.
---
SAVE THE DATE FOR OUR 10th ANNIVERSARY CELEBRATION!
Ten years ago, two attorneys founded the Abolitionist Law Center with one client, political prisoner and former Black Liberation Army member Russell Maroon Shoatz. Today ALC is both a public interest law firm and a community organizing project, has nearly 20 staffers, offices in Pittsburgh and Philadelphia, and a portfolio of work that by some estimates impacted close to 70,000 people last year.

As we blast into our second decade, we're wielding litigation, pressure campaigns, and public education. We're centering and mobilizing affected communities. We're targeting every point on the criminal punishment conveyor belt, including policing, the courts, jails and prisons, and other forms of correctional control.

This urgent, challenging, and often life-and-death work can be very heavy. But there's a lot to celebrate, too.
Save the date and plan to join us on the evening of September 20th for a festive, community-centered commemoration of this milestone at the World Cafe Live in Philadelphia, and look out for more details coming soon about this event and other anniversary programming.
---
DONATE TO DECARCERATE
Help us sustain the fight to free people from incarceration and other forms of racist state violence by making a tax-deductible donation to the Abolitionist Law Center today.
Your gift fuels our collective liberation struggle and powers the transformative change we're fighting for in the courts, in the streets, behind bars, and on the outside.
We need your partnership to keep the pressure on, and we appreciate your contribution of any amount today. There's so much more for us to do together!
Contributions to the Abolitionist Law Center, a 501(c)(3) organization, are tax-deductible to the full extent of the law.
---